At JAGUAR we have more than 50 years of know-how
dedicated to the manufacture and marketing of lifting machinery.
50 years in which we have forged great commercial, technical and production experience that has given us a privileged position, both in the domestic market as well as THE INTERNATIONAL.
INDUSTRIAS JAGUAR S.A.HISTORY
Its origins date back to 1954 when Metalúrgica Guipuzcoana, whose main activity was based on the manufacture of handling equipment, emerged and began in the manufacturing of products such as clamps, hoist trolleys, manual hoists, rack jacks and high-resistance chains.
Industrias Jaguar SA is the result of more than 60 years of progress of a company located in a demanding and competitive industrial and economic framework. In that period of time, it has accumulated experience and knowledge about the market that allows it to carry out its operations with total trustworthiness.
In its eagerness to adapt to such a changing environment, it has expanded its range of lifting and transport equipment, becoming one of the leading brands in the domestic market.
The main value and differentiating factor of Industrias Jaguar is its commitment to the process of continuous improvement, giving absolute priority to the quality of product and service, becoming the pioneer of its sector in supplying lifting and transport equipment, adapted according to requirements and needs of users, within 24 hours to anywhere in Spain.
Industrias Jaguar is today an expanding company with a lot of visibility, looking forward to the future with enthusiasm, looking for new projects that allow it to stay at the forefront of the industrial lifting market.
TEAM
We are made up of a team of people working in an agile way and in alignment with you, actively listening to you, speaking your language and being involved in offering solutions in all kinds of highly demand situations.
Find out more!
SPECIALISTS IN
CUSTOMIZATION
IN DEMANDING
ENVIRONMENTS.
At Jaguar we are specialists in the development of products that adapt and respond to demanding environments. We create adapted and customised solutions for each specific challenge in highly demanding operations, where safety is a priority.
That is why we submit our products to safety testing that we carry out in our Jaguar Test Lab test bench, ensuring maximum reliability in demanding situations.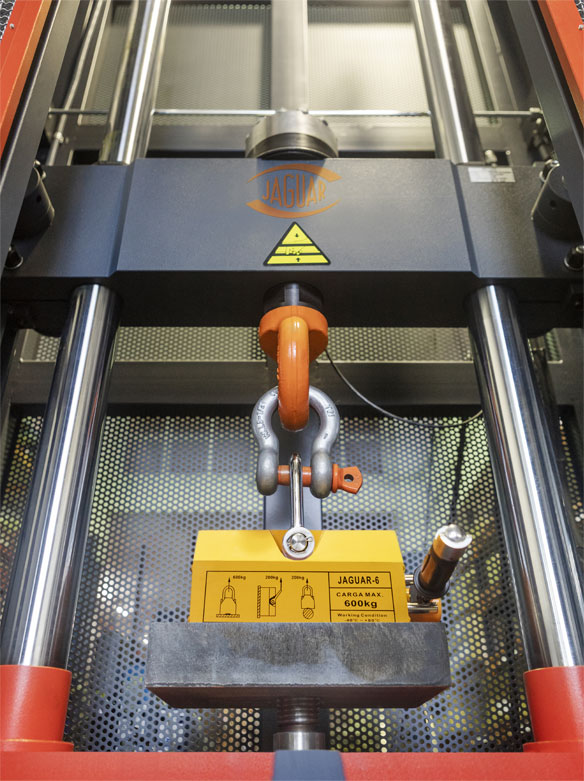 HOW DO WE DO IT?
Active listening to our customer's needs & customised solution design depending on equipment.

Assembly process.

Safety testing at Jaguar Test Lab.

Issuing of documentation according to the regulations.

Product finished on the day itself with delivery at to the customer in *24 hours.

*For shipments through 24 hour courier.
Our JAGUAR CUSTOM LAB customisation service is carried out by qualified and experienced personnel.
We anticipate the needs of our customers by responding with solutions in 24 hours thanks to a large stock.
Take a look at our catalogue
We will be happy to talk with you to provide solutions to challenges that you put to us, ease any doubts that may arise, respond in an agile and effective way to the needs and demands of your sector, etc.